---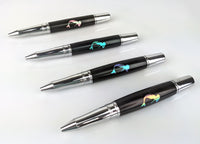 This limited Sergeant Series Mermaid Collection is manufactured in the US from solid stainless steel. The pen body is fanciful mermaid silhouette design in holographic colors, available in Hot Pink (darker pink), Green, Lavender Blue (darker blue), Baby Blue (lighter blue), and Baby Pink (lighter pink not shown) which has been cast in clear resin.  The blank is buffed to a nice shine and is durable enough to last a lifetime. This product uses refillable ink cartridges obtainable at any office supply store.
A mermaid has been the signature symbol of the City of Norfolk, Virginia, since 2002. If you have ever visited the area, you may have seen mermaids scattered about town. More info at https://www.norfolk.gov/1952/Norfolk-Mermaids
Sergeant Series ballpoint pens offer smooth and refined lines, and the distinct feel in your hand, and is available in titanium gold, satin, chrome, and limited stainless steel finish.
CLICK HERE for information on how to care for your pen.