---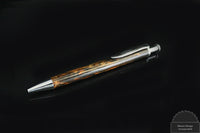 This Long Click Series Ballpoint Pen is made of a Handcrafted Great Balls of Fire with a chrome finish. The blank is buffed to a nice shine and is durable enough to last a lifetime. This product uses refillable ink cartridges obtainable at any office supply store.
Long Click Series are beautiful, finely crafted instruments that are practical and classically sentimental in a variety of pen finishes.
CLICK HERE for information on how to care for your pen.