---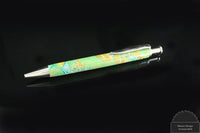 This Long Click Series Ballpoint Pen has a chrome finish. The pen body is made of Polymer Clay. Polymer clay is a sculptable material based on the polymer polyvinyl chloride (PVC). It usually contains no clay minerals, and is only called "clay" because its texture and working properties resemble those of mineral clay. The polymer clay is finished with Cyanoacrylate Glue to give the greatest durability and shine, then buffed to a nice shine and is durable enough to last a lifetime.  This product uses refillable ink cartridges obtainable at any office supply store.
Long Click Series are beautiful, finely crafted instruments that are practical and classically sentimental in a variety of pen finishes.
CLICK HERE for information on how to care for your pen.