---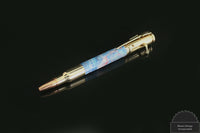 This Cartridge Series twist pen is made of a PSI Bolt Action Click with TruStone and a gold finish. The TruStone is buffed to a nice shine and is durable enough to last a lifetime. This pen uses refillable ink cartridges obtainable at any office supply store.
Cartridge Series include 308 Winchester casings or bolt action click for any hybrid combination of our current ballpoint pen materials: antler, corian, wood, polymer clay, acrylic or other cast materials. We commonly use a Corporal Series pen clip.
CLICK HERE for information on how to care for your pen.