---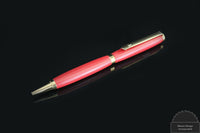 This Private Series twist ballpoint pen is made of Hot Corian with a gold finish. This material is the same material that is popular for kitchen counter tops. The Corian is buffed to a nice shine and is durable enough to last a lifetime. This pen uses refillable ink cartridges obtainable at any office supply store.
Private Series ballpoint pens are a sleek twist action design that can be offered in a variety of pen blank materials, available in chrome, black chrome, black titanium, satin pearl, and gold finish, and some options for specialty clips.
CLICK HERE for information on how to care for your pen.